Doug Wyman's Community Service Page
My activities for my community have been pretty much curtailed in the last few years.

---
---
My current Community is a rural area on Tiger Mountain in the Issaquah Alps
There are seven homes on a shared spring which Philip and I own.
This creates a default community of some very fine people.
Our property is large and wooded.
It is the ideal place to retire from all the struggles of society and enjoy life.

Below is a brief history of community activism.


I never really wanted to be a crusader though I was drawn into the early rights struggle in 1965.

That is rather well documented in the history book _Gay_Seattle_.

We gained enemies on both sides of the struggle because we were not just working towards equality for gays

but that "gay society", which kept gays seperate, should change and that gays should become a part of the greater society.

---
Then I took my own advice, moved into the Maple Leaf neighborhood and became invloved in politics,
Civil Air Patrol Search and Rescue, crime scene assistance and a bunch of other things.


In 1971 Buddhism took me away from those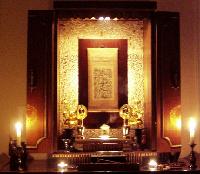 Until 1974 when I was again thrust into the rights struggle.
When the lawsuit was finished, I was asked to join Northwest GOAL

I eventually became Executive Director with Ferenc Zana as President.
Northwest GOAL has ceased to exist.

I was quite tired of all that and retreated into my local community (Maple Leaf)
where I worked to keep the quality of life high for all of us.

In Maple Leaf I was Precinct Committee Officer of my precinct,
a member of the
46th District Democrats
,
the Harvey Muggy Gay and Lesbian Democrats
and
King County Democrats
.
---

Late in 2007 I bought a home in Colorado
Politics had become split too widely.
The Democratic party was nearly totally Socialist.
Even though all the years of fighting for causes have left me drained,
I was still a voter and had to declare a party.

My mother would be proud and my father dismayed but I registered as Republican.
But I quickly realized the religious right had captured the party.
I wanted no part of that so I am now an Independant.
I am back home in Washington State and as far from politics as I can get.
3D Animated US and State Flags--By 3DFlags.com